Over the years, microwaves have evolved to become an essential tool for most families. These appliances help free up your time in the kitchen so that you can spend more time doing what you love most.
GE and Whirlpool companies are among the best microwave manufacturing brands. They produce high-quality microwaves to help you cook fast and with ease.
In this guide, we go through microwave ovens from the two brands to help you understand how they work, their pros and cons, as well as the features they come.
Are microwaves from GE and Whirlpool any different? You'll find that out soon enough.
GE Brand Overview
AIR FRY MODE
CONVECTION MODE
BROIL MODE
PRESET CONTROLS
The General Electric Company (GE) is a multinational company based in America. For more than 125 years, it has invented the industry's future.
The company is well known for its work in the renewable energy, power, aviation, and healthcare industries.
It was founded in 1889 by Thomas A.Edisson and has its headquarters in Boston. Its products include aircraft engines, electrical and electronic equipment, and financial services.
GE produces electrical consumer goods (one of the largest lines in the world), and through its GE and Hotpoint appliance brands, it has become a top seller of different types of home appliances.
GE Microwave Ovens
GE microwave ovens are characterized as easy to use, highly reliable, and durable. With a microwave from this brand, you get assured of high functionality.
GE appliances offer microwaves that will most likely fulfill most of your culinary needs. Their microwaves come in 3 varieties, including the built-in countertop and over-the-range.
The company's smart microwaves feature scan-to-cook technology that allows you to use their app and your mobile device for cooking your food to specification automatically.
And with a GE microwave that is powered by SmartHQ WiFi technology, you can easily monitor your timers from anywhere, cook your meals and use your voice with Google Assistant or Amazon Alexa.
Their over-the-range and built-in microwaves free up valuable counter space while the advantium over-the-range microwave ovens bake, grill, brown, broil, and microwave foods up to 8 times faster than a convection oven.
Achieve golden-brown brown results with GE convection microwave ovens that boast a heating element that combines with a fan to circulate warm air around foods evenly.
There are also microwaves that come with a built-in air fryer to help you cook crispier and healthier versions of your favorite meals.
Advantages of GE Microwave Ovens
Are designed to be easy to open and accessible
Come in a variety of colors
Easy clean interiors
Are ADA compliant
Fingerprint resistant
Smart microwaves use scan-to-cook technology that takes the guesswork out of cooking.
Cook healthy and tasty food in less time
Advantium models cook 8 times faster than conventional ovens.
Disadvantages of GE Microwave Ovens
Expensive
Not ideal for persons with tiny kitchen spaces
Whirlpool Brand Overview
Whirlpool Corporation is also an American multinational company, which is into the manufacturing and marketing of home appliances.
The company was founded in 1898 by Emory Upton, Louis c. Upton and Fred Upton. Its headquarters is in Benton Harbor, MI.
Whirlpool's products include home dishwashers, refrigerators and freezers, cooking appliances, mixers, room-air conditioning equipment, and portable household appliances.
The company operates in North America, Latin America, Europe, the Middle East, Africa, and Asia.
Whirlpool Microwave Ovens
Whirlpool microwave ovens are designed to make your cooking chores quick and enjoyable. With one, laying out a dining table full of homemade delicacies is a breeze.
You can get a solo microwave oven, a grill microwave, and a convection microwave from Whirlpool.
Therefore, if you love grilled food, a grill Whirlpool microwave comes in handy. With it, you can also indulge your guests with delicacies like grilled corn, bacon, sausages, pizzas, fish fingers, or grilled meats.
Some models of Whirlpool grill microwaves come with a feather-touch membrane control, which you can manipulate with ease while cooking.
Different power levels enable you to set your microwave to varying temperatures so you can grill the food to your liking.
Grill microwaves from this brand also offer the option of cooking, reheating, and defrosting food.
A solo Whirlpool microwave oven is the best option for you if you're okay with microwaves that only offer basic functions like cooking, reheating, and defrosting food.
These microwaves offer as much as 20 L capacity making it possible for you to prepare a relatively large quantity of food at a go.
Whirlpool solo microwaves also boast an LED display that showcases the oven's settings. There are also those that come with mechanical knobs that are easy to control.
A Convection oven from Whirlpool will enable you to prepare appetizing starters, filling entrees, desserts, among other foods. Some models feature as many as 150 auto-cook menus to help you prepare meals effortlessly.
Whirlpool convection microwave ovens have a better moisture retention feature that enables you to prepare dishes such as chicken tandoori or paneer.
Convection microwaves with the Jet Crisp Steam technology heat your food instantly without affecting the consistency of your food's ingredients or aromatic composition.
Advantages of Whirlpool Microwave Ovens
Most models are fingerprint resistant
Have a non-stick interior thus easy to clean
Sensor cooking in convection microwaves eliminates guesswork
Innovative dual crisp technology allows you to get the excellent crispness
The LED display showcases the settings for ease of use
Convection microwave feature many auto cook menus
Easy to operate
Disadvantages
Some models come with a very high price tag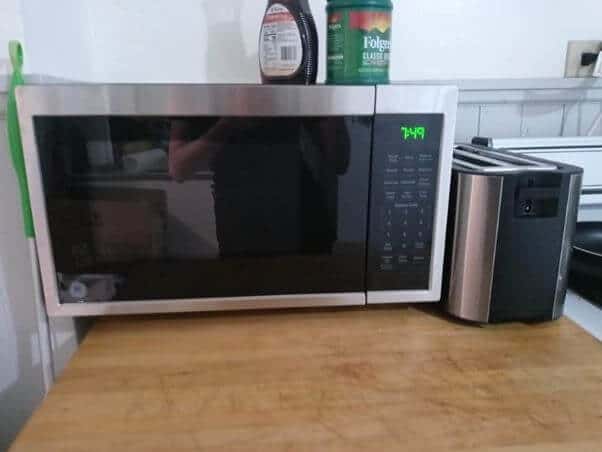 Frequently Asked Questions
1. How long should my Whirlpool microwave oven last?
The microwave should last for at least 7 years with regular use and proper maintenance.
2. What can make my GE microwave stop working?
The most common cause is a blown main fuse.
3. Is my microwave worth repairing?
Get it repaired if the microwave is relatively new and the repair cost is less than replacing it.
4. Is Whirlpool a good brand for microwaves?
5. What should I look for in a 2021 microwave oven?
You need to consider the size of the microwave, wattage, its reliability, price, preprogrammed settings, noise level, price, safety, and warranty period.
6. Are microwave ovens safe to use?
Yes, microwaves heat food by agitating the water molecules in the food. And although these appliances emit radiation, it's not powerful enough to cause harm.
7. What power level is powerful enough to handle simple defrosting and heating?
Microwave power in the 800 watts to 1000 watts range is enough to handle your daily needs.
8. What is the warranty period of GE and Whirlpool microwave ovens?
Microwaves from both brands come with a limited 1-year warranty.
Conclusion
In functionality and reliability, GE and Whirlpool microwaves beat so many microwaves from other brands. You can never go wrong by getting a model from either brand.
Whether you want a solo microwave for basic cooking tasks, a grill microwave to help prepare barbecue from time to time, or a convection microwave oven, the 2 brands have your back.
And the best news is that their microwaves come in a varying price range to suit everyone's budget.
We hope that this guide will help you select a microwave from the best brand and upgrade your kitchen. Cheers!