If you have limited kitchen space and thinking of investing in a microwave, a low profile model might be your best bet.
Low profile microwaves use the power of a regular microwave and a vent hood to form a space saving appliance that you can mount under the cabinet to replace a range hood.
Most low profile microwaves come with a spacious interior to accommodate all the essentials you need when preparing meals for your family.
They boast a high-performance vent that removes smoke and odors to clear the air in your kitchen.
Whirlpool and Kitchen Aid are the most popular companies for making low profile microwaves, and in this post, we compare models from the 2 brands.
Do Whirlpool and KitchenAid low profile microwaves work in the same way? Which brand has better models? Are there any differences? Stay with us to get the answers to these questions and more.
Comparing KitchenAid with Whirlpool Low Profile Microwave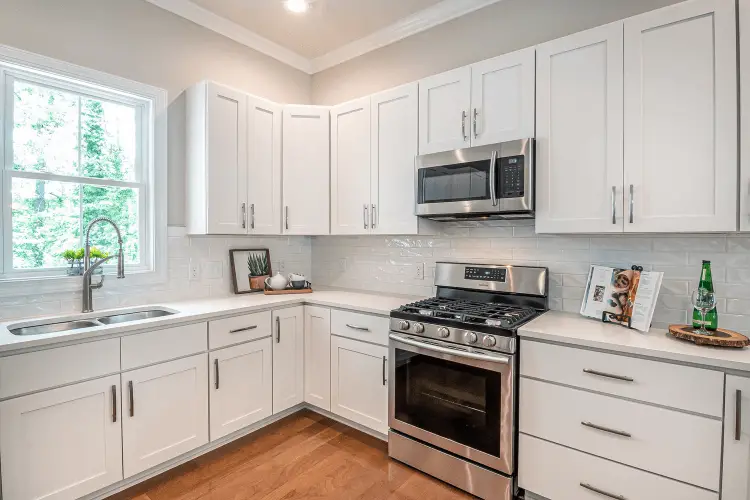 Design
KitchenAid low profile microwaves combine a microwave and a hood in the cabinet space usually occupied by a range hood alone.
These models boast a height of 10.3 inches and help you eliminate your countertop microwave for valuable countertop space for food prep.
Whirlpool low profile units come in a sleek, compact design that mounts under a cabinet like the KitchenAid models.
They are also based on the height of 10.3 inches and have room for enough essentials without taking up your valuable countertop space.
Interior Capacity
Low profile microwaves from both brands come with a spacious interior that can fit tall mixing bowls, tall glasses, large plates, casserole pans, among other cooking essentials. It's the same case for KitchenAid and Whirlpool low profile microwaves.
Speed Settings
KitchenAid low profile microwaves feature multiple speed settings that enable you to choose the right fan speed for your cooking adventures. From smooth simmering to high-heat searing, the units help you prepare different delicacies with ease.
Whirlpool models also feature speed settings that help you prepare different meals at the right speed and at your pace.
Ventilation System
With two quiet 5-speed fans, KitchenAid low profile microwaves provide powerful ventilation performance. The fans capture grease, smoke, and odors to clean the air and allow for all culinary adventures.
These microwaves boast 500 CFM motors that handle all venting requirements of high-temperature cooking like stir-frying and pan searing.
Whirlpool low profile microwaves boast 3-speed 400 CFM motor high-performance venting that helps to remove moisture, smoke, and odor.
Controls
KitchenAid models come with a touchpad control panel hidden inside the unit's door. This feature provides a streamlined and classy appearance to the appliance.
And it's the same case for Whirlpool microwaves. The microwave's smooth touch controls are concealed behind the unit's door for a modern look.
Exterior Quick Access Buttons
Low profile microwaves from KitchenAid boast quick access buttons located on the front of the units. They make it easy to use key functions such as cancel the cycle, open the door, select a ventilation fan speed, add an extra 30 seconds sped time, or turn on the task lights with a simple touch.
Whirlpool models also have quick access buttons that allow you to quickly add 30 seconds option to an already in-progress cooking for excellent results.
LED Cooktop Lighting
KitchenAid low profile microwaves come with 2 LED task lights to illuminate your entire looking surface. They give you an excellent view to help you see the cooking progress.
The 2 LEDs boast night light settings as well.
LED cooktop lighting from Whirlpool microwaves helps you to keep an eye on what you're cooking below the cooktop.
Sensor Cooking
KitchenAid microwaves boast a humidity sensor that tracks your food's cooking progress and adjusts the cooking time as needed. This feature helps cook food evenly and avoid overcooking.
These models provide convenient presets for various cooking modes, including reheat, popcorn, soften, melt and defrost.
Whirlpool microwaves feature presets that enable you to get the right heat for excellent cooking results. They also have a popcorn preset to help you make popcorn right.
Turntable
Whirlpool microwaves come with a turntable that allows you to choose the on/off function to accommodate a wide range of dish sizes.
The turntable plate is dishwasher safe hence easy to clean.
KitchenAid low profile units come with a 12″ recessed turntable that helps you cook food evenly thanks to the constant rotation. The turntable comes sunken into the microwave's bottom to maximize the oven's capacity.
Which is Better, KitchenAid or Whirlpool Low Profile Microwave?
Low profile microwaves from the 2 brands come with features that are almost similar. They have spacious interiors, hidden touchpad panels, a variety of preset settings, among others.
This means that you'll get a high-quality microwave, whichever brand you choose to go for.
Frequently Asked Questions (FAQ)
Q. What is a low profile microwave?
A low profile microwave is designed for constrained spaces over the range that would normally work for a range hood.
These microwaves help to maximize your countertop space.
Q. Must you vent a low profile microwave outdoors?
There's no requirement that your low profile microwave must be vented outdoors. You can set the microwave to allow the fan to either vent outdoors or recirculate the air back into the kitchen.
Q. How many watts is a Whirlpool low profile microwave?
A Whirlpool low profile microwave has 1000 watts.
Q. Where is the start button on Whirlpool low profile microwave?
The start button is the button that looks like a triangle on the front of the unit.
Q. What are the different microwave vent types?
Microwave venting options are external venting through an outside exhaust vent and recirculating, where the microwave pulls air through a filter and vents back into the house.
Q. What is the capacity of low profile microwaves?
The capacity of most low profile microwaves is 1.1 cubic feet. It's a little smaller than a standard OTR microwave but still spacious enough to fit regular-sized dishes.
The width is the same as that of standard OTR microwaves, around 30 inches.
Q. Does Samsung make low profile microwaves?
Yes, Samsung makes low profile microwave ovens as well.
Conclusion
A low profile microwave is a 2 in 1 solution that fits and vents like a hood. It helps free up counter space hence worth investing in.
KitchenAid and Whirlpool are known to make the best low profile microwaves, and getting a model from either brand makes a lot of sense.
Their microwaves are high quality, easy to use, and can accommodate bowls and sizes of medium sizes.
With a Whirlpool low profile, you get the chance to use the turntable option when required or switch off this option to accommodate larger meals.
If eyeing a low profile microwave with a high CFM, get one from KitchenAid.