Microwaves are great kitchen appliances that help reheat, grill or bake. They help cook a wide range of recipes and food items, including kebabs, pizza, popcorn, or reheat frozen food.
The most common types include over-the-range, built-in, under the counter, conventional, smart and convection microwaves.
These microwaves can vary in their placement in the kitchen. Some are built into a wall; others sit below the countertop, above the range or free standing.
In this post, we compare low profile and regular microwave ovens. How do they work? Is one better than the other? What are their pros and cons? Can you replace one with the other?
Read on and learn more about the two types and what they can offer your kitchen.
Low Profile Microwave Ovens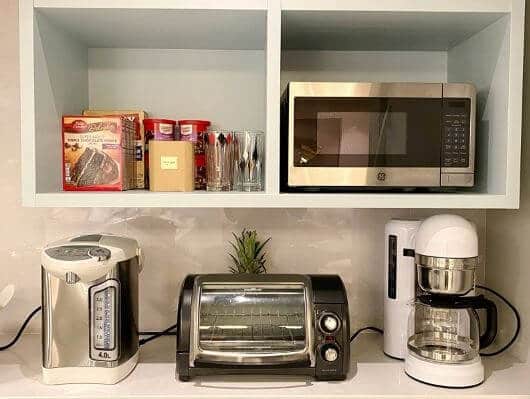 Low profile microwaves install above the range, just like over-the-range microwave ovens. They are space-saving, compact, sleek and vent like a hood.
These microwaves were introduced in 2018 and are designed for constrained spaces above the range. If you want to enjoy the advantages of an over-the-range microwave but your cabinetry is too low for an OTR microwave, this microwave is for you.
Most low profile microwaves measure approximately 10.25" in height, a full 6" less than the average OTR microwave. Actually, every other over-the-range microwave in the market measures 16 to 17 inches tall.
The good news is that a low profile microwave can provide you with all the features of an over-the-range microwave, including:
Ventilation capabilities
High-quality surface lighting for your cooktop surface
Versatile and powerful microwave cooking capabilities.
One thing to note is that these microwaves can't be installed flush with your kitchen cabinets. They are specifically designed to stick out slightly over the cooktop for a more effective ventilation system.
Advantages of low profile microwaves
Compact, fit and sleek
Ideal for persons whose cabinetry is too low for an OTR
Offer powerful cooking features
Have a roomy interior
Come in a low maintenance design
Offer high-performance venting
Fit larger plates and pans
Space-saving
Disadvantages of low profile microwaves
Expensive
Bothersome for short people
Hard to monitor the food you are preparing
Regular Microwave Ovens
Regular microwaves are also known as standard or solo microwaves. They are casual models with only the microwave mode and are usually placed over the countertops.
Regular microwaves are the most basic microwave ovens intended primarily for cooking, reheating your food and beverages and defrosting frozen foods.
These microwaves cook by electromagnetic radiation produced from a magnetron. This magnetron transforms energy into heat, which then cooks your food.
Regular microwaves range from 550 to 1500 watts and can be used in various places, including compact apartments, offices, residential premises, among others.
Most regular microwaves boast capacities of 0.5 to 2.5 cubic feet and are thus ideal for small and medium-sized families.
Of all other microwaves, regular microwaves have the least features. Most have express cooking, a quick-start function, and a defrost option. They also come with a child lock mechanism, a digital clock and a timer.
Advantages of a Regular Microwave
Easy to use and clean
Budget-friendly
Require low maintenance
Rapid cooking of food
Small and compact
Come with a timer
Can be used for defrosting, heating and reheating
Disadvantages of a Regular Microwave
High energy consumption
Lack of versatility in cooking
Can dry out food f overcooked
FAQs
Q. Are low profile microwaves good?
Yes, low profile microwaves boast powerful and versatile cooking capabilities, ventilation capabilities, have a spacious interior and are easy to maintain.
Q. Does a low profile microwave need to be vented?
There's no requirement that you vent your low-profile microwave to the outdoors. However, you can set it up to either allow the fan to vent the air outdoors or recirculate it back into the kitchen.
Q. Who makes low profile over-the-range microwaves?
Whirlpool and KitchenAid make low profile over-the-range microwaves.
Q. What are the advantages of a low profile microwave?
Low profile microwaves help declutter the counter space, have a spacious interior, offer high-performance venting, are easy to maintain and are ideal for you if you have cabinetry that is too low for an OTR.
Q. How wide is a low profile microwave?
Most low profile microwaves width is just the same as that of a standard OTR, which is roughly 30 inches.
Q. Are regular microwaves good for baking?
No, you can't use a regular microwave for baking.
Q. What can you cook in a regular microwave?
You can cook simple meals like pasta and noodles, reheat leftovers, boil milk and brew coffee and tea. You can also use a regular microwave for basic defrosting.
Q. What are the dimensions of a low profile microwave?
Most low profile microwaves boast a capacity of 1.1 cubic feet, a 30 inches width, and the height is just over 10 inches. The impenetrable lengths are roughly 18 inches, and open depths measure around 48 inches.
Q. How can I mount a low profile microwave?
To mount a low profile microwave, you need first to install a wood stud and a cabinet opening. Then install the cabinet, put the microwave in place, and position the wall stud.
Q. How many inches should a low profile microwave be above the stove?
A low profile microwave should be 18 inches above the cooktop.
Conclusion
Since a microwave is an essential kitchen appliance, you need to get one that offers you the ease and convenience to make your day less stressful. Both the low profile and regular microwaves work excellently hence worth investing in.
If interested in an over the range microwave but your space does not allow for one, try a low profile microwave. It works in the same way, but it's more compact and designed for constrained spaces above the range.
A regular microwave will fit you best if you don't do a lot of cooking. However, if living in the dorm or just need a microwave for simple cooking tasks, you'll love this standard microwave.