A microwave is the go-to kitchen appliance for convenient cooking. But figuring out the size to get, especially if you need to install between cabinets, can be a little tricky.
And while most microwaves come with an interior of around 1 to 2.2 cubic feet, the exterior space varies with different microwave styles.
To choose the size of the right microwave, consider the number of people you'll be serving with food from the unit. For instance, if you have a small family of 2-4 members, one with a capacity of 1.2 cubic feet will suit you best.
For a large family, you need a larger microwave with high power. One with a capacity range of between 1.2 to 1.6 cubic feet might work for you.
If you're looking for a countertop, over the range, or built-in microwaves, the guide below will help you get the right fit.
1. Countertop Microwave Sizes
A countertop microwave is a freestanding unit, usually placed on the kitchen counter. Some can also be installed in cabinets with a trim kit.
Compact/small microwaves dimensions
Most compact microwaves have an interior capacity of between 0.5 and 0.9 inches. Their width ranges from 15 to 19 inches and usually have a height of between 10 and 11 inches.
Note that to get the depth of a microwave right, you need to take the measurements when the door is closed and open. This is because you'll need enough space for your unit's door to swing out fully.
Closed-door depths of small microwaves range from 12 to 16 inches and 23 to 30 inches when the door is open.
Standard and Large Microwaves Dimensions
The capacity of standard and large microwaves usually comes around 1.0 to around 2.2 cubic feet. Widths can range from 21 to 25 inches. But, if you're installing in a cabinet, a trim kit usually brings the width to around 27 or 30 inches.
The height of these models comes at around 12 to 15 inches.
Closed-door depths range between 16 to 20 inches and open-door depths of around 34 to 39 inches.
2. Standard Over-the-Range Microwave Sizes
Over-the-range microwaves are ovens installed above a range or cooktop. These units function like countertop microwaves but come with a built-in ventilation system that clears the air as you cook.
The interior space of these ovens ranges from 0.8 cubic feet for compact microwaves and up to 2.1 cubic feet for full-sized models.
Widths are usually roughly 30 inches to match the standard width of the range and the cabinet where you'll mount the oven. And although compact over-the-range are less common, they are usually approximately 24 inches wide.
Heights of these models are usually around 17 inches. However, if working with a shorter cutout, get a low-profile microwave, which is a little over 10 inches high to allow more space above the range.
Closed-door depths of these microwaves range from 15 to 18 inches, and 25 to 45 for open door depths. And because all over-the-range microwaves bear similar widths, open door depths are also similar.
3. Built-in Microwave Sizes
Built-in microwaves are options that are neatly tucked into a cabinet or a wall. This allows for free space on the counter.
The units create a flush look in the kitchen and usually open down like a wall oven or pull out like a drawer.
The capacity of built-in microwaves ranges from 1.2 to 2.2 cubic feet, with most featuring 1.2 to 1.6 cubic feet. Widths usually align with standard cabinets widths of 24, 27 0r 30 inches.
Height ranges from 17 to 22 inches, while depths have a capacity of between 20 to 25 inches when the door is closed and 30 to 35 inches when the door is open.
How to Measure a Microwave's Dimensions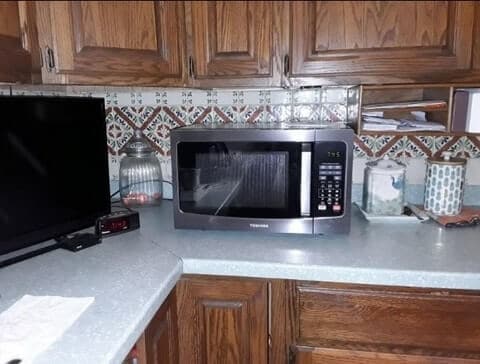 To figure out the size of the microwave you need, measure the space of the shelves or countertop you want it to occupy. If looking for an upgrade, take the measurements (height, width, and depth) of your current microwave and account for the following:
One-inch ventilation space between your microwave and the wall behind it.
3 inches of space from the counter edge to the open microwave door. This is to prevent your microwave from tipping.
Over-the-Range and Built-in Microwaves
To get the correct size of either of these microwaves, measure your existing microwave's height, width, and depth.
Measure cabinet to cabinet and account for the following:
6 inches of clearance between the wall and your microwave. This will help the door to open fully.
30 inches from the top of your stove to the top of the cabinet cut out for an over-the-range microwave.
You also need to check out manufacturer instructions to ensure that you get the right ventilation space for the microwave. Another thing to note is that you might require professional help to install a built-in microwave oven.
Still, Have Questions?
Here are some frequently asked questions.
What is the best size microwave for a family?
If you have a big family, get a microwave with an internal capacity of at least 2.0 cubic feet. An oven with a capacity range between 1.2 and 1.6 is enough to prepare enough food for a small family of 4.
How big is a 1.5 cubic feet microwave oven?
A 1.5 cubic feet microwave oven is big enough to prepare enough food for 4 to 6 persons.
Can a 1.1 cubic feet microwave hold a dinner plate?
A 1.1 cubic feet microwave is large enough to hold a 10-inch dinner plate.
Conclusion
Getting a microwave that fits well on your countertop or built-in cabinet will make your kitchen look organized. With the right size, you are assured that the food you prepare will always be enough for your family or guests(1).
We hope that you'll find it easy to choose the right microwave size to suit your needs from now on. And although size is important, be sure to factor in other features like wattage, ease of use, and advanced features when shopping for a microwave.